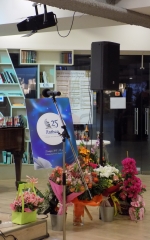 On the eve of international book and copyright day - 23rd April - Anthea Agency celebrated it's 25th Anniversary with an elegant party at Literary Club "The Feather" in National Palace of Culture, Sofia, Bulgaria.
We would like to share with you the atmosphere of the party with a few pictures we are uploading here.
Special guests of the party were the musicians of Acoustic Guitar Group "Tochka BG". And for their anniversary "Anthea Agency" published a book of quotes from some of the strongest titles, published in Bulgaria with a licence via "Anthea" throughout the years - "Short Lines from Great Books - Insights for every day".
Here's to 25 more years of successful cooperation and great mutual projects!